Expertise of a studio with proven technology
The rig was invented to automate long and repetitive tasks in order to save time in animation.
In other words, the rig exists to go faster, and riggers and animators are working together to produce animation as efficiently as possible.
So in a context where the quality of images is constantly increasing, because a rig will be used for thousands of hours and pass through many hands, we offer a specialized service, designed to optimize production and speed up animation.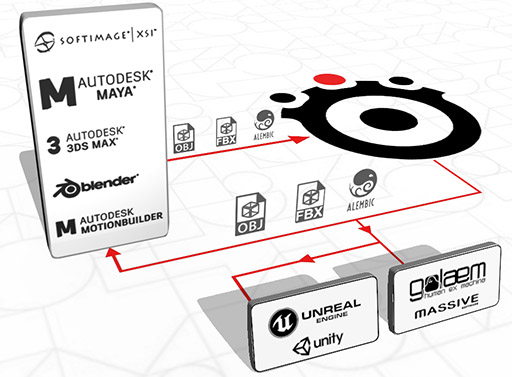 Rigging can start immediately, without autorig development, the assets are delivered ready to animate, and remain usable in production long after our intervention.
Up to 4 characters in the scene in real-time, 360 °amplitude on all joints and automated behaviors for repetitive tasks.
Make up your own opinion !
Any intervention starts with analyzing your needs: types of characters, vehicles, props, and features needed for production.
There is one template per category. Also, once the template is approved, all the characters of this template integrate the features.
This way, any evolution of the template automatically leads to the update of all the characters using it.
Because rigging is between modeling and animation, close collaboration is needed. We therefore provide technical advice, monitoring and reporting throughout the duration of our intervention.
One of the strengths of the service is the ability to produce your assets right now, without upstream development, which is a real time saver.
After-sale service !
Toonkit tracks assets until the end of production.
The team remains present after the end of the intervention to ensure fixing and debugging.
Some even say we are rather responsive !